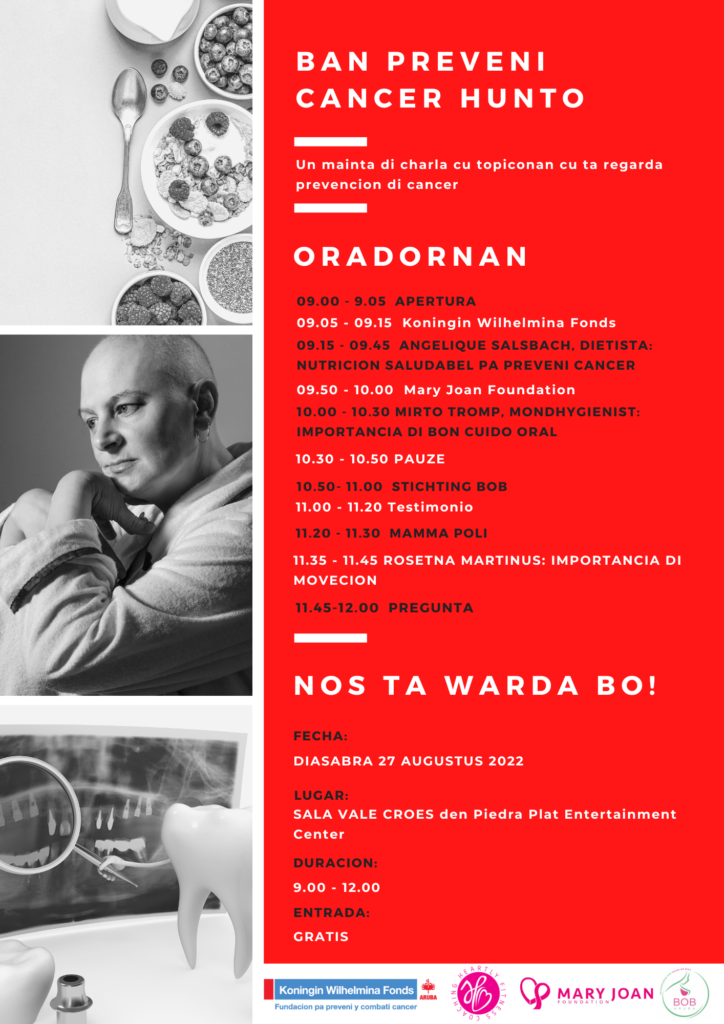 Diasabra 27 di augustus Koningin Wilhelmina Fonds Aruba ta organisa e charla 'Ban Preveni Cancer Hunto'. Lo tin diferente orador cu lo bin na palabra.
Angelique Salsbach, kende ta nutricionista, lo papia riba nuticion saludabel cu enfoke riba prevencion di cancer.
Mirto Tromp kende ta mondhygienist,lo papia riba e importancia di bon cuido oral, no solamente pa prevencion di cancer pero tambe con pa cuida bo boca si bo mester bai haya tratamento pa cancer.
Rosetna Martinus ta un transformational & wellness coach y e lo enfoca riba e importancia di movecion y un lifestyle saludabel.
Alabes e fundacionnan cu ta traha duro riba concientisacion pa preveni of trata cancer tambe lo ta presente. Stichting BOB cu ta e fundacion cu ta percura pa hende muhernan keda controla nan pechonan regularmente tambe lo duna un presentacion. Mary Joan Foundation cu ta duna guia y ayudo na hende homber y hende muher cu tin cancer na pecho lo ta presente pa asina splica mas di nan trabou. Mamma Poli ta e clinica na Horacio Oduber Hospital special pa personanan cu tin un of otro enfermedad di pecho y nan tambe lo ta presente pa splica riba nan trabou y amplia mas riba e proceso di tratamento medico di cancer di pecho na Hospital.
E mainta di charla lo tuma lugar na Piedra Plat Entertainment Center den Sala Vale Croes y lo tin un duracion di 9.00 -12.00. Entrada ta gratis y tur hende ta bon bini pa asina concientisa nan mes riba cancer y un bida saludabel.