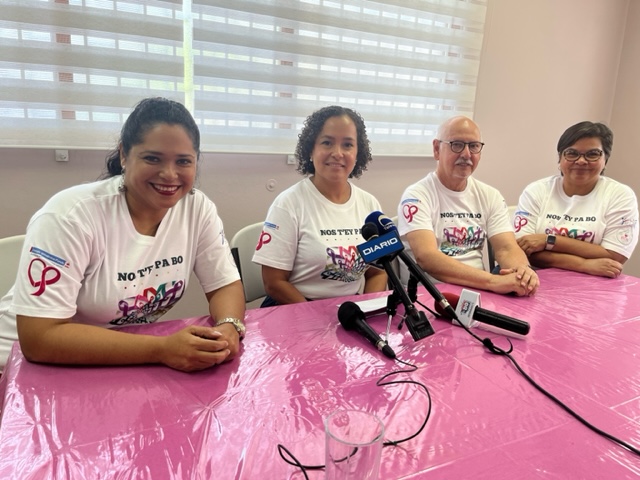 Meta di e rueda di prensa ta pa informa pueblo tocante un concepto nobo cu ta wordo introduci, caminda 4 fundacion ta ofrece y invita pueblo di Aruba pa participa hunto cu nos.
E concepto nobo aki ta encera un serie di 5 charla titula: "Nos t'ey pa bo". Cada charla lo tuma lugar den diferente bario.
E 4 fundacionan activo awe, ta uni pa conscientisa comunidad. No solamente tocante nos servicionan individualmente pero tambe pa den unión nos por t'ey pa otro.
Koningin Wilhelmina Fonds -Fundacion Contra Cancer di Prostaat -Mary Joan Foundation y BOB Aruba ta traha hunto pa den e forma aki por continua duna informacion, conscientisacion y hermentnan cu por wordo aplica na cas. E 4 fundacionan aki ta enfoca diariamente riba prevención.
Bin scucha ki servicionan tin pa bo persona of pa un familiar of un amistad.
E charlanan: " Nos t'ey pa bo" ta gratis y no mester registra. Si nos ta pidi pa tur hende jega na tempo. Porta ta habri 6:30 pm y nos ta cuminsa 7pm.
E agenda ta lo siguiente:
20 September 2023 na Teresita Center San Nicolas
18 Oktober 2023 – na MFA Santa Cruz
22 November 2023 – na MFA Paradera
21 Februari 2024 – na MFA Noord
20 Maart 2024 – den bario di Dakota
Keda pendiente pa sa mas tocante e ubicacion exacto di e charlanan.
Cada charla lo finalisa cu un bunita testimonio y nos lo culmina e anochi cu un sorpresa chikito.
Nos ta invita pueblo di Aruba pa join un di e charlanan aki, kisas esun mas cerca di bo cas.
Sin lubida nos kier urgi nos hendenan pa nan traha nan cita pa e checkeonan de salud. No warda, traha bo cita paso nos salud ta cuminsa den nos mes man.